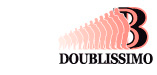 Doublissimo is a brand dedicated to men big and strong. Specialist of large size shirt since 2004,Doublissimo offers a wide range of fashion products at the right price.

It's not because you're big and strong you need to pay more and have less choice!
Big and strong men sometimes have trouble to dress as they wish especially when they seek large size shirt. The prices are often high and the choices rather limited. With this in mind, Doublissimo rescues large sizes offering a wide range of shirts and polo shirts at reasonable prices. Quality products, combining comfort, elegance and impeccable cut, available in size shirt 46 to 54.

The exclusive elegance for all.
To make fashion accessible to everyone Doublissimo makes a point of honor to create true fashion collections. It is not only to design quality models, comfortable and appropriate, but also work on the color, the choice of fabrics and the details.

One brand, two styles.

To satisfy the tastes and needs of each Doublissimo shirts are available in two categories:
• dress style, with cuffs, collars Italian, easy ironing etc..
• fashion style, with double breasted, big collars, fantasies buttonholes ...